At Lovett's, we have a special bond with dogs – and it shows in all of our dog sitting and dog walking services that we provide in and around Boulder CO. We have experience with most dog breeds – including up to 160 pounds each!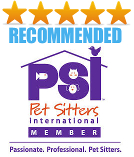 Dogs are a great judge of character. We ask you to let your dogs be the judge. We enjoy meeting with you and learning about your dogs habits, what they like, and what they don't like. You tell us the house rules and we stick to those rules while we are dog sitting in your home – or when we come by on a daily dog walker program.
Lovett's Google and Yahoo Pet Sitter Reviews
_________________________________________________________________________
Lovett's Facebook Reviews
_________________________________________________________________________
Please contact us to have Melanie and Robbie come meet with you personally to discuss your needs. Call Melanie now at (239) 692-4898 – You won't get an answering machine! If we can not pickup the phone, you will get a call back within a few minutes – Guaranteed!
Dog Sitter / Dog Walker Services in Boulder Include:
24 Hour Dog Sitter Services – Perfect during hospital stays, cruises, vacations, while you are travelling, and even if you have to go out of town on work!
Overnight Dog Sitters – We stay with your dogs when you can't be at home at night
Daily Dog Walker – We walk your dogs for you – We can walk your dogs 1, 2, or 3 Times each Day –

Perfect for teachers and professionals

– when you can't be home during lunch or right after work!
Doggy DayCare – We stay with your dogs while you are at work – Perfect for "special needs" dogs or times when your dogs just need more love and attention. Just drop them off and we will do the rest!
Doggie Transportation to Vet and Groomer: We schedule their visits, bring them, stay with them, and bring them home for you!
Dog Trip To the Park: When your dogs love being outdoors!
Why Choose An In-Home Dog Sitter When You are Away?
We are the stress-free alternative to cage boarding and kennels in Boulder CO. We give your dogs all of the love and attention they need as a part of your family – right in their most comfortable space – Your Home! Some dogs have different routines and mentalities – and we understand this!
We are also now offering dog boarding and doggie daycare in our home. if your pet is allowed on the furniture at home, then they can come stay with us and sit on the furniture too!
_________________________________________________________________________  
Benefits of In Home Dog Sitting over Cage Boarding or Kennels
No need to transport your dogs to the boarding or dog kennels – will easily save 2 hours time!
Dogs will not remain in confined caged space during most of their stay – even in the "Suites" the dogs are alone most of the time!
No Need to give your dog a bath when they get home!
No Kennel Cough or Fleas – Yes – they can get parasites and get sick from other animals! – Why not avoid the medical expense and time? What happens if your dog needs to be picked up from the kennel to go to the vet? It happens!
Much Lower Dog Anxiety levels – Dogs love us! We will come by and show you why they love our care and attention – and show you how calm they will be when you get home!
No Worries about Dog Boarding being closed. Sometimes planes and travel plans arrive late and the dog kennels are closed – and the dog has to wait in their small space another night to go home and be with the family.
_________________________________________________________________________
Dog Sitter and Dog Walker Rates and Pricing in Boulder Colorado
Typically, our dog sitting and dog walking prices for Boulder, CO are:
30 Minute Dog Walk:

$20 to $30

(includes treats, dog walk for 20-25 mins, and 5-10 minutes of playtime)
60 Minute Dog Walk:

$30 to $40

(includes treats, dog walk for 20-30 mins, and 30-40 minutes of playtime)
Daily Dog Walker Plans Now Available – Daily Dog Walking Available upon request at 30% discount –

(Also Ask about our special rates for Teachers, Firefighters, Police, and Seniors!)

Overnight/24 Hour House & Pet Sitting – (in your home)

$50-100

(includes treats, dog walking, playtime, slumber party, constant care)
Overnight/24 Hour Dog Boarding – (in our home)

$50-100

– the easiest turnkey solution for pet parents that are on the go!
Doggie Daycare – (in Our Home) – $50-100

(includes treats, dog walking, playtime, slumber party, constant care)
Factors That Affect Dog Sitting and Dog Walking Rates Above:
Dates

you need us to watch your dogs

Number of dogs

The

Temperament

of your Dogs
What dog sitting/daily dog walking services you desire and

how many times per day

Your location

(closest intersection) in Boulder Colorado
COMPLETE THE FORM BELOW

OR CALL (239) 692-4898

TO CONTACT US NOW!