When deciding to adopt a puppy over a dog, please remember that puppies need a lot of attention to ensure that they grow up to be confident, happy dogs. Can you take on this responsibility? If so, you'll be rewarded with a loyal canine companion for life.
I know how hard it can be to resist that cute puppy in the store window. Please think twice before buying a dog from a pet shop because by doing so you are supporting the cruel puppy mill industry.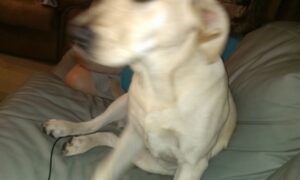 These facilities cram dogs into overcrowded, stacked cages. The dogs may never know the feeling of the grass beneath their feet, the enjoyment of playing outdoors, and more importantly, the loving touch from a human.
Even if the puppies get to leave the mill, the parents are stuck there for YEARS breeding MORE puppies in those terrible conditions.
The best advise I can give anyone who wants to adopt a dog is to turn to your local shelter first. There are always young dogs in need of homes. If you have a specific breed in mind, there are many resources to help you find what you're looking for.
Peace and Love are present in my world now,